Blogs:JaroslavTulach:Daily Life
From APIDesign
(Difference between revisions)
(→Jaroslav Tulach's Daily Life Blog)

Line 2:
Line 2:

<startFeed />

<startFeed />

+
+
+
+
+
+

==== Win the Practical API Design Book ====

==== Win the Practical API Design Book ====
---
Revision as of 19:41, 2 September 2008
There is a review of TheAPIBook! Geertjan had just sent me a link to the first public review of the TheAPIBook. I was a bit nervous to open the page. I was not sure whether to get ready for absolute criticism or words expressing usefulness of TheAPIBook. I guess that a review which says this is without a doubt a book that you need to put on your bookshelf. This is the first book of its kind and the tips and tricks that it provides is timeless - a key attribute of any pragmatic software development book can only be seen in positive light. Thanks for the nice review, Mike.
Now on to the critical comments. Yes, I know the first part of the book, the theory, maybe seen as something delaying the real pleasure - the practical code samples. In some sense it does, however I just felt that given the wide audience of readers (just to quote the reviewer this book is really much more for anyone who writes code that anyone else consumes - and who doesn't do that? This book is for any developer who is not brand new to software development), I felt the need to get everyone on the speed, clean up the terminology, make sure we understand each other. Maybe I was too careful, as RichUnger said: you do not need your readers to agree with you 100%, maybe 99% is enough. Well, I targeted for the 100%, and as a result, the book may be seen slow for those who are already on the same boat. Still, it has a lot of meat even for such readers, I guess.
The other interesting comment was about the subtitle: confessions. The comment is very likely true. I have to admit, especially after the confession I made at the end of Chapter 4, that I have never been to a confession. My understanding of that term is really vague. However, we needed the subtitle to stress, that the book is not opinion neutral, that it contains personal experiences, ideas, stories, etc. When Clay suggested to use confessions, I felt, yes, that is sort of what I am actually doing. Maybe this is not absolutely correct, but it helps set the right expectations up. At least I hope.
I really like Mike saying: After reading many chapters, I went right to my open source project, Architecture Rules, and either changed code or emailed developer mailing list to suggest changes to code to encourage a better, more malleable and extensible API. Yes, this is it! This is the reason why I wrote TheAPIBook. Software for 21st century needs to be modular, needs to be well evolved and I am glad that my book can contribute to that.
Thanks for such nice review and I am eagerly waiting to see more. Btw. if you ever feel you have a note to share about API Design, feel free to jump on the apidesign.org wiki.
--213.220.235.54 19:41, 2 September 2008 (UTC)
Win the Practical API Design Book
As part of Chapter 1, The Art of Building Modern Software I wanted to demonstrate that the need for programmers is really big and that almost everyone who wants to get a job as a programmer may get it. For this I wanted to reuse a picture of a San Francisco homeless that is famous for wearing sign with "Will Code HTML for Food". However I could not do that, because the picture is of really low quality. That is why I needed a new re-take. We already have some, but still, I'd like us to start sharing! As sharing of pictures is sometimes easier than sharing of API Design ideas, please participate in a photo contest! Get a chance to win TheAPIBook by taking "Will Code HTML for Food" like picture and adding a reference to it to HtmlForFood by Aug 28, 2008!
I am looking forward your submissions.
--JaroslavTulach 16:11, 14 August 2008 (UTC)
New LaF of apidesign.org
There was a lot of factors that influenced me last year, when I was searching for publisher of my book. However one of them must have been slickness of cover. I really like the black and yellow style of Apress books. I like it so much that I decided to make it the default Look and Feel of the apidesign.org website.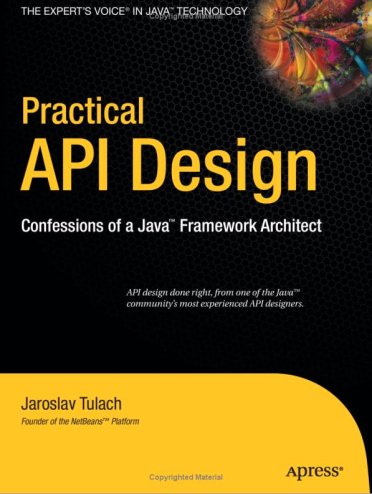 I'd started with MonoBook theme and modified it to be a bit darker. I do not code CSS for living, but CSS file editing support in NetBeans IDE is good, so it was quite entertaining experience. I am sure not everything is perfect, but I'll keep fixing problems as they appear. If you notice something ugly or broken, let me know.
<comments/>
--JaroslavTulach 10:16, 4 August 2008 (UTC) --JaroslavTulach 10:09, 4 August 2008 (UTC)
There is a Reason Why Every Book is Dedicated to Family
I've heard this sentence at the J1 this year and I cannot get it out of my mind. Yes, family plays a really big role in the life of a writer. So please let me thank to it as well to other friends.
--JaroslavTulach 19:00, 27 July 2008 (UTC)
Good Book Needs Good Reviewers
It is time to thank to all my reviewers as today I've found out that you can order my book on Amazon.com. Please look at my little ThanksReviewers to find out why to order my book. I believe that all reviewers really shape it to something worth reading. Thanks a lot.
--JaroslavTulach 19:44, 18 July 2008 (UTC)
Removing Fear of Writing Documentation
Heuréka! As I've just noted in a dedicated page describing chapter 16, Teamwork one GeertjanWielenga's fear has just been overcome!
--JaroslavTulach 16:05, 17 July 2008 (UTC)
Adventures with PHP and MediaWiki
During the last week, I was slightly playing with various enhancements to the content of the API Design wiki.
--JaroslavTulach 21:14, 6 July 2008 (UTC)
Book is never Written by a Single Person
The Practical API Design book has been sent for print over the last weekend. I take it as a good opportunity to say thanks to all the people who helped me write it. The first set of ThanksEveryone notes is now available and covers those who "manually" contributed. I still need to thank to all those support "units" around me - something left for next blog entry...
--JaroslavTulach 12:01, 23 June 2008 (UTC)
Entering the Blogosphere
I have created my blog, does it mean that I finally exist?
--JaroslavTulach 09:33, 15 June 2008 (UTC)