HtmlForFoodCompetition
From APIDesign
The HtmlForFoodCompetition which we run in order to promote TheAPIBook and popularize its major concepts is running towards its end! I have already selected the winner using a complex mathematical operations with a huge contribution of pseudo randomized numbers. Please tune in the next NetBeans Podcast Episode 46 and hear the announcement yourself!
I can only say that the submissions we got were really great:
Who will win TheAPIBook by providing the best Html For Food picture?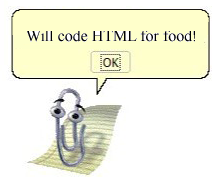 Listen to second half of this
API Design Tips
podcast:
, the winners are
cismet guys
! Congratulation!