GraalSpringTour
From APIDesign
(Difference between revisions)
Line 6:
Line 6:

I am at Labská bouda, but exhausted. Weather isn't great. I will not make it to Luční, sorry.

I am at Labská bouda, but exhausted. Weather isn't great. I will not make it to Luční, sorry.

-

I got back home, but it was all a bit tough. First of all I had to start in 300m altitude lower than originally expected - not in [[wikipedia:cs:Horní_Mísečky|Horní Mísečky]], but in [[wikipedia:Špindlerův_Mlýn|Špindlerův Mlýn]] due to Saturday bus schedule. Climbing up was initially fine, but the closer to top, the more windy and foggy it all got. As such at 11:00 I got to [[wikipedia:Vrbatova_bouda|Vrbatova bouda]]. Honza Horváth (the only co-worker who RSVPed) called that the road from [[wikipedia:Rokytnice_nad_Jizerou|Rokytnice nad Jizerou]] was icy and he'd be delayed. Anyway at 11:30 I got to [https://www.labskabouda.cz/ Labská bouda] - however, to my horror, the cottage was closed. To fulfill my promise of ''happy hour'' I had to wait outside trying to call Honza. We he finally picked the phone up (couldn't sooner as it was too windy to even pick a phone) he was in a shelter kilometer away from [https://www.labskabouda.cz/ Labská bouda] - I encouraged him to continue hoping he shows up in ten minutes. However he didn't and I was freezing for another half an hour. I gave up and went towards [[wikipedia:Martinova_bouda|Martinovka]] to rescue at least myself thinking about calling a rescue mission for Honza not even picking a phone. Finally Honza called - he had got lost and realized that only when crossing the Polish border. Honza sounded freezing and tired as well, so we called the meeting off and decided to return back where each of us started. I reached [[wikipedia:Martinova_bouda|Martinovka]], healed my freeze wounds and then quite tired continued down to [[wikipedia:Špindlerův_Mlýn|Špindlerův Mlýn]] bus station.

+

I got back home, but it was all a bit tough. First of all I had to start in 300m altitude lower than originally expected - not in [[wikipedia:cs:Horní_Mísečky|Horní Mísečky]], but in [[wikipedia:Špindlerův_Mlýn|Špindlerův Mlýn]] due to Saturday bus schedule. Climbing up was initially fine, but the closer to top, the more windy and foggy it all got. at 11:00 I to [[wikipedia:Vrbatova_bouda|Vrbatova bouda]]. Honza Horváth (the only co-worker who RSVPed) called that the road from [[wikipedia:Rokytnice_nad_Jizerou|Rokytnice nad Jizerou]] was icy and he'd be delayed. Anyway at 11:30 I got to [https://www.labskabouda.cz/ Labská bouda] - however, to my horror, the cottage was closed. To fulfill my promise of ''happy hour'' I had to wait outside trying to call Honza. We he finally picked the phone up (couldn't sooner as it was too windy to even pick a phone) he was in a shelter kilometer away from [https://www.labskabouda.cz/ Labská bouda] - I encouraged him to continue hoping he shows up in ten minutes. However he didn't and I was freezing for another half an hour. I gave up and went towards [[wikipedia:Martinova_bouda|Martinovka]] to rescue at least myself thinking about calling a rescue mission for Honza not even picking a phone. Finally Honza called - he had got lost and realized that only when crossing the Polish border. Honza sounded freezing and tired as well, so we called the meeting off and decided to return back where each of us started. I reached [[wikipedia:Martinova_bouda|Martinovka]], healed my freeze wounds and then quite tired continued down to [[wikipedia:Špindlerův_Mlýn|Špindlerův Mlýn]] bus station.

{{#ev:youtube|NUJCXi8y9No}}

{{#ev:youtube|NUJCXi8y9No}}
---
Revision as of 05:06, 3 April 2022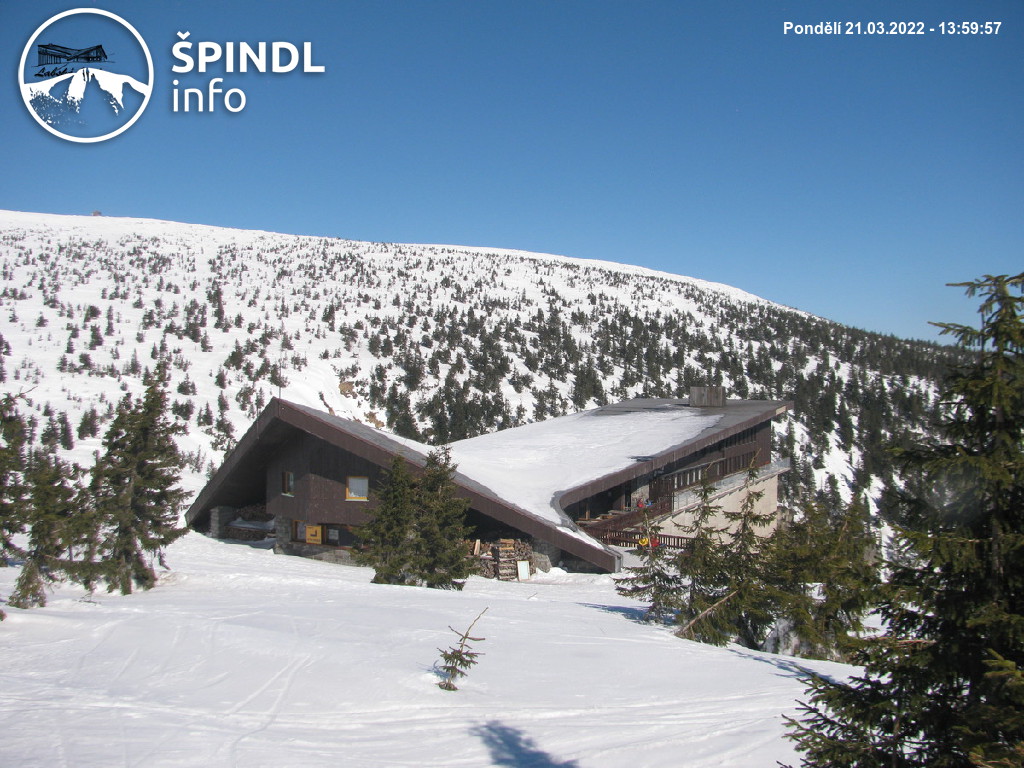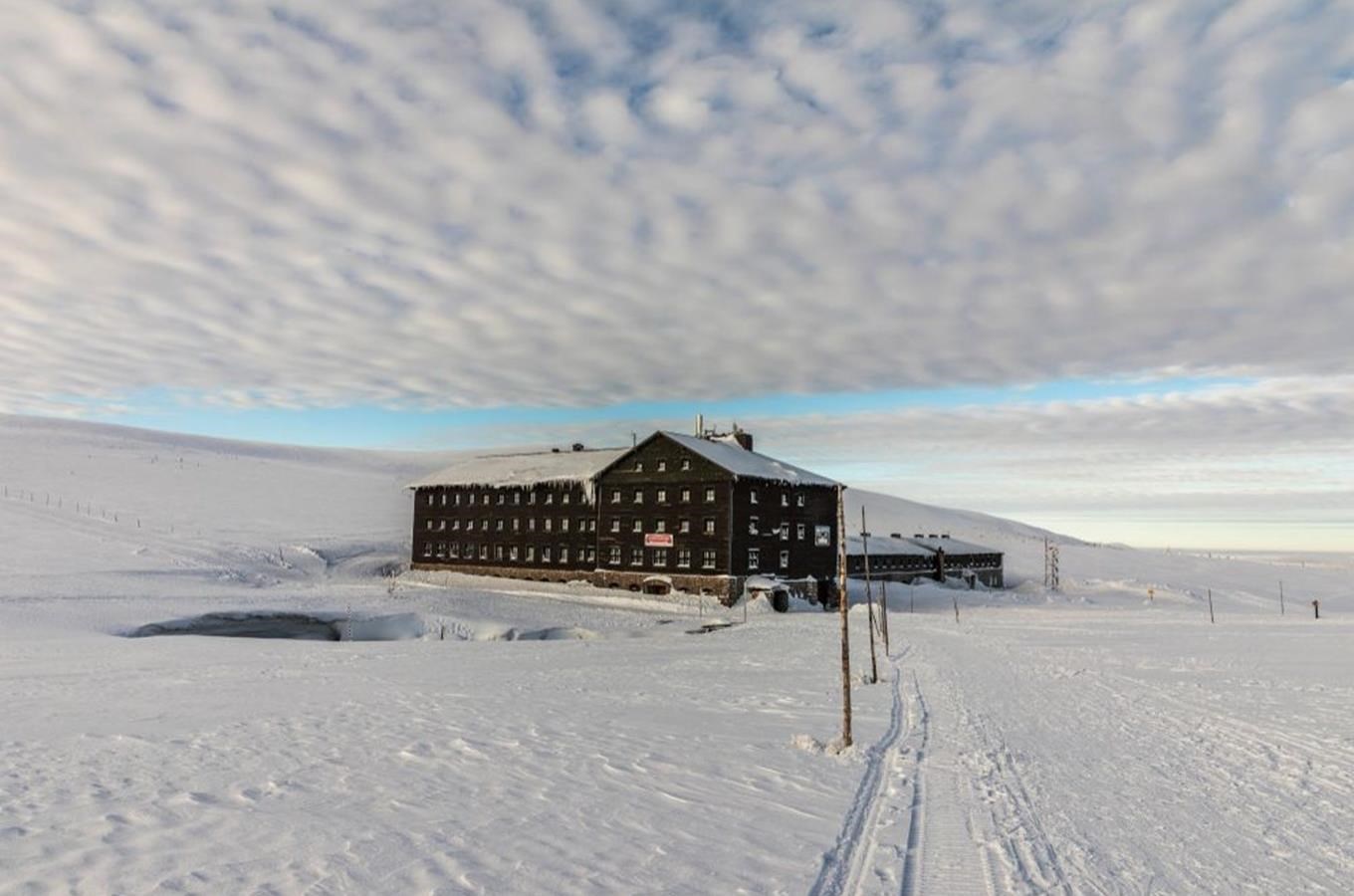 Canceling Luční bouda
I am at Labská bouda, but exhausted. Weather isn't great. I will not make it to Luční, sorry.
I got back home, but it was all a bit tough. First of all I had to start in 300m altitude lower than originally expected - not in Horní Mísečky, but in Špindlerův Mlýn due to Saturday bus schedule. Climbing up was initially fine, but the closer to the top, the more windy and foggy it all got. In spite of that at 11:00 I had ski-skated up to Vrbatova bouda. Honza Horváth (the only co-worker who RSVPed) called that the road from Rokytnice nad Jizerou was icy and he'd be delayed. Anyway at 11:30 I got to Labská bouda - however, to my horror, the cottage was closed. To fulfill my promise of happy hour I had to wait outside trying to call Honza. We he finally picked the phone up (couldn't sooner as it was too windy to even pick a phone) he was in a shelter kilometer away from Labská bouda - I encouraged him to continue hoping he shows up in ten minutes. However he didn't and I was freezing for another half an hour. I gave up and went towards Martinovka to rescue at least myself thinking about calling a rescue mission for Honza not even picking a phone. Finally Honza called - he had got lost and realized that only when crossing the Polish border. Honza sounded freezing and tired as well, so we called the meeting off and decided to return back where each of us started. I reached Martinovka, healed my freeze wounds and then quite tired continued down to Špindlerův Mlýn bus station.
If anyone was waiting for a happy hour at Luční bouda then I deeply apologize! I was expecting nice spring weather when planning the GraalSpringTour, but instead of that I got a typical Hanč & Vrbata storm. The prospect of leaving Martinovka and going up to the roof of Krkonoše again was killing me. I wouldn't probably make it to Luční bouda. Let's plan something simpler next time!
Celebrate
Let's celebrate GraalVM. The past, the spring, the future. Let's have a cross-country skiing tour. When? Saturday, April 2, 2022. Let's meet at two cottages in Krkonoše:
11.00 - 12.30 Labská bouda - let's have a snack and a beer and then move on to
16.30 - 18.30 Luční bouda - let's have a beer, dinner and either stay or move on
Getting there is up to everyone's own skills. People often travel to Harrachov and then walk/ski around Vosecká bouda to Labská bouda. Or they start in Rokytnice nad Jizerou and use the chair lift to get to Lysá hora. I plan to go from Horní Mísečky. Remember, there is going to be some snow (view from Labská, Luční). Hopefully the weather is going to be acceptable.
Špindlerův Mlýn is a suitable starting point to get to both locations. Getting to Luční bouda is also possible from Pec pod Sněžkou - just walk the hill up or from Polish side - Karpacz - either walking (around Malý staw) or taking the chair lift to Kopa. Both locations offer accommodation. According to the best tourist maps it is three hour trip from one location to the other.
To make GraalSpringTour more attractive I plan to buy beers and food for you, if you show up at the above mentioned happy hours and show an evidence of your positive attitude towards GraalVM!